Description of Trips
10. Rutarski vršič above Martuljek.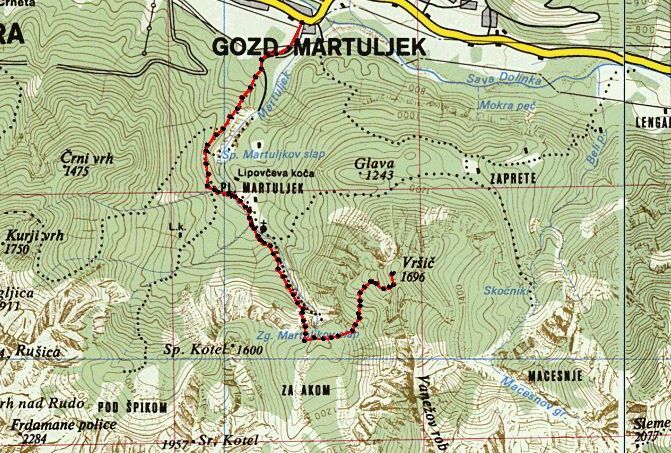 Our march on summit Rutarski Vršič we begin at Martuljek. We shall choose the way against to waterfalls of the creek Martuljek. On the way we shall pay a visit to the first waterfall and then we continue against other one but which we shall not visit because our way secedes at indicator For Ak. From here forward the way is steep and for approximately in 20 minutes comes to the heavier part. The steel cables and wedges are very good maintained and with a little caution we will cross this part of way successfully. Now we are in cirque Za Ak, just above the second waterfall of the creek Martuljek. Here we can take a little rest or we can go to the bivouac.
From here forward the way is not marked with the mountaineering marks. We turn left - rectangularly on riverbed (torrent) to forest and already we are on the trail which leads us up to the summit Rutarski vršič. This part of the way is very pleasant and not demanding. It takes about 1 hour. From the summit we have a beautiful view on Karavanke and on Zgornjesavska valley against Kranjska Gora, Rateče...
On returning we shall take the same way back and due to descending the return will be shorter for cca 0,5 of hour.



The view of The Basin Za Ak.***** The view of the canyon of the creek Martuljek



























The trip is suitable for the good consolidated hikers and it lasts cca 5 hours. The high-altitude difference is for about 1.000 m, the total length of the whole trip is about 8,6 km. The part of way on the section For Ak is harder (steel cable,wedges) and is not suitable for children from under 12 years or for the persons with vertigo.