Description of Trips
11. Mavrinc - Špica v sedelcih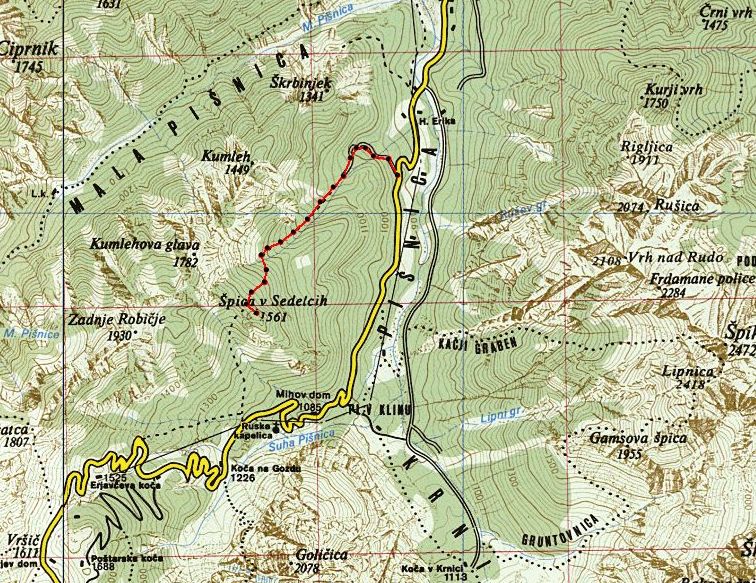 We start our trip to the Mavrinc from the parking place at the second bend of the road to Vršič. At the begining we are taking a wide forest path. Later we can see some shortcuts but it is better to use the main path. After about 45 to 60 minutes of walking we can notice on the right side the stone man. We turn right into the woods and there we can find the path. From here onwards we are following the path which leads us to the top of the ridge where we turn left and after a few minutes (5-10) we are at the top. Here we can enjoy a beautiful view of the Kumleh, Mojstrovka, Vršič Pass, the Krnica valley, Špik, Kranjska gora. For returning to the valley we use the same way. In the case that we have missed the stone man we can continue the path to the end. Now we encounter lightly wet terrain and after some ten meters we can see grassy land. We turn to the left into the slope and continue walking on the path. After the long, slightly strenuous walking path we are again on the path which we missed. On the right of us, is a stream, we turn left and continue on.

There is also shorter version (about 1 hour walk). The starting point is Koča na Gozdu. The path is located approximately 200 m down the road on the left side.



View on Mavrinc from Krnica.



The Cross at the top of Mavrinc.


The trip is suitable for a little less hardened hikers and take about 3 and a half hours walk in both directions. Height difference is about 600 m, path length about 2 x 2.2 kms.The starting point (parking at the second curve) is reached by a car. The path is not difficult and is also suitable for children older than 8 years.