Description of Trips
Trip 3. From Srednji vrh to Blekova planina, Vošca and back.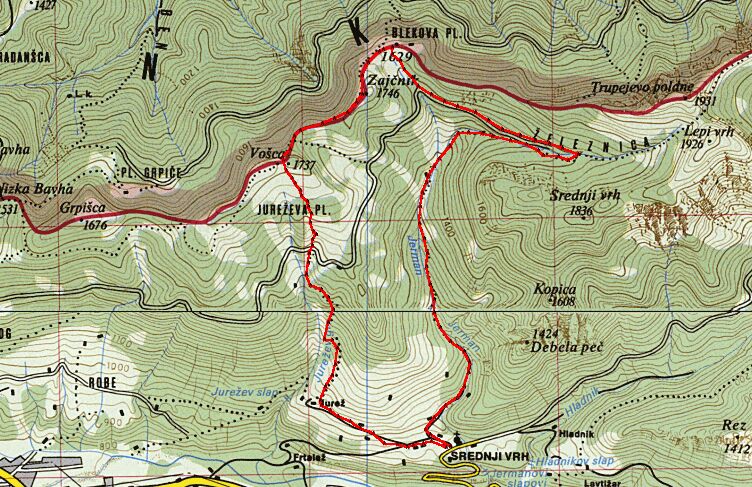 We shall begin our trip at Srednji Vrh above the village Gozd Martuljek. From here the way leads us slightly along the Jerman creek. The way is not heavy and from time to time we take a little rest. After one hour we reach the forest road. Here we are turning to the left and we continue our walking. The road has a little ascending and a little descending. All this section we have the gorgeous views. After 1,5 km we turn to the right and we ascend to Blekova planina. In summer time we can see here cows and sheep. From the crest of Blekova planina we are going to the west and after one hour we come to the peak Vošca (1.737m sea level). We take a longer rest enjoying to have a view of Dobrač, city Beljak (Austria), Jalovec etc...
We are again full of energy and we can continue our fantastic trip. We are descending on southern slope of Vošca. The way leads us to the forest just in middle and some minutes later we cross the road and narrow path takes us down to the Jurež farm. Here we turn on the left and we continue our way back to the Srednji vrh.

The trip is suitable for hikers with the moderate condition and it last about 5 hours incl. rests. The relative altitude is abt. 850 m, the length is abt. 10 km. The arriving to the initial place should be with car. Parking is not problematic.