Description of Trips
Trip 5. From Rateče to Tromeja (Peč) - Three Borders and back.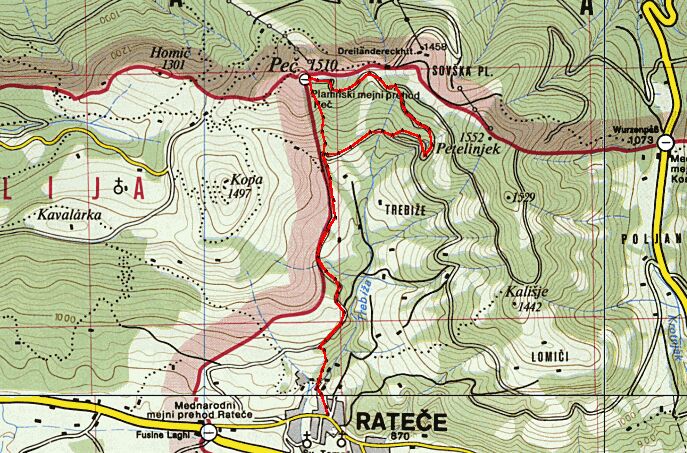 We shall begin our Sunday trip in the center of the village Rateče. The way is marked and very soon we shall leave the road. The path leads us up and we continue our way without any great effort till the crossroad: to the peak Peč or to the restaurant Tromeja. We shall take the shorter path to Peč (1.510 m sea level). The serpentine is partly sunny and partly shadow.

After abt 40 minutes of walking - a little tired we shall take the time for resting and viewing. The peak Peč is remarkable because of the point where three international borders come together - Slovenian, Austrian and Italian.
From the peak we continue our trip to restaurant Tromeja in order to make another rest, to eat and drink. The way back is the same and we shall soon be back in the village Rateče.

The trip is suitable for all hikers and it last about 5 hours incl. rests. The relative altitude is abt. 600 m and the length is abt. 8 km. The arriving to the initial place should be with car. Parking is not problematic.

Variant:
1. With car to the restaurant Tromeja.