Description of Trips
Trip 6. From Gozd Martuljek to Kurji vrh and back.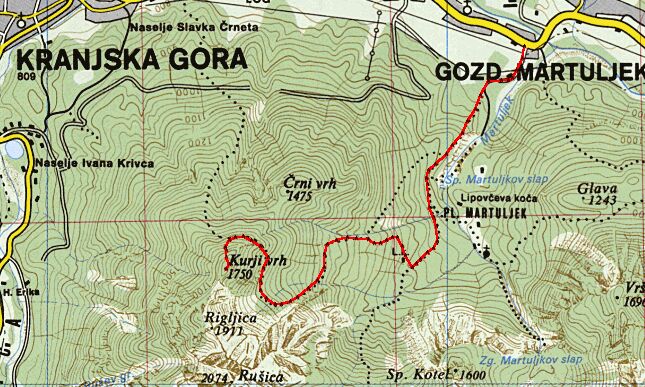 Izlet je primeren za bolj utrjene pohodnike in traja cca 6 ur s postanki. Višinske razlike je za cca 1000 m. Dolžina poti je cca 9,5 km. Na izhodiščno točko se pripeljemo z avtomobilom.


We shall begin our trip at the village Gozd Martuljek ( old pension Špik ). The first section is like that one mentioned in trip 4, but nevermind, I repeat it again.
After some minutes of walking we have to decide where to go: through the canyon of the stream Martuljščica or we shall take the way designed on the map. The way through the canyon is more beautiful but on your own risk, because sometimes exists the possibility of falling stones from slope and also the way is a little problematic. The stream of Martuljšcica is changing his river bed from time to time. After 30 minutes of walking we reach the first waterfall.
From the first waterfall the path is very pleasant without any great effort till the signature Pod Špik where we take the signed direction. The walking is nice but we have to find out the path by hunter log. The path is going right abt 200 - 300 m before the desk mentioned in trip 4, the terrain is a little swampy and there is an old bridge quite invisible. The path leads us up and up but also in hot summer it is enough shadow. From time to time we take a little rest but I advice to take the rest when we shall come out of forest and we shall have a beautiful view of Karavanke, Gozd Martuljek, Martuljški vršič, the pasture Jasenje with Ingo's hut...
From here the path is getting closer and closer to the stone slopes of Kurji vrh (1.762 m sea level) and after 45 - 60 minutes we are at the point ( north side ) where our path turn to the left and we are going directly to the top. We have to be careful on this section and in abt 30 minutes we reach the peak. The view is fantastic.
On returning we take the same way but it should be fine to take a rest at Ingo's hut enjoying after such a good trip.

The trip is suitable for the hikers with good condition and it lasts about 6 hours incl. rests. The relative altitude is abt. 1,000 m and the length is abt. 9,5 km. The arriving to the initial place should be with car.