Description of Trips
Trip 7. From Gozd Martuljek to Kranjska gora, Robe, Srednji vrh and back.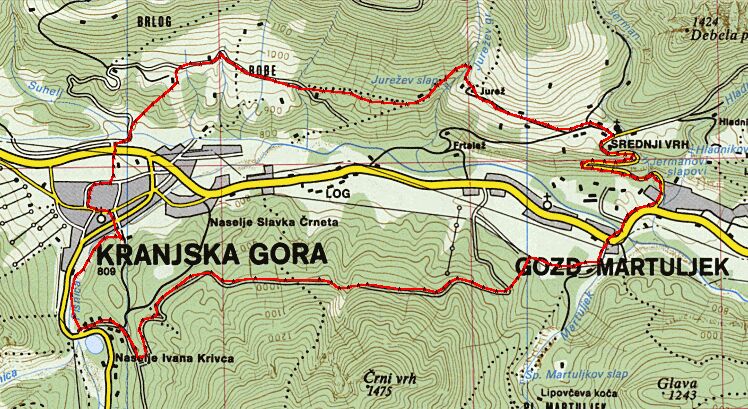 We shall begin our trip at the village Gozd Martuljek ( old pension Špik ). The idea is not new because the path is marked and also you can check it on the Map of Kranjska gora with surroundings.The first section is marked with number 1 and the second one from Kranjska gora to Robe, Srednji vrh with number 2.
I suggest this trip because of it picturesque path and wonderfull views. I have changed a little the line of path. Changes are following:
1. We begin our hike on cycle way to Kranjska gora and after abt 500 m we shall find the crossroad with cart track. Here we are turning on the left and a little more farther again to left. From here the path takes us up and up till the forest road where we continue our trip.
2.The second change is to avoid the road from the river Sava to Srnjak. We shall take the path which is begining at the first turn of the road to the left-see the map.

The trip is suitable for the hikers with middle condition and it lasts about 5 hours incl. rests. The relative altitude is abt. 300 m and the length is abt. 14,5 km. The arriving to the initial place should be with car.