Description of Trips
Trip 8. From Gozd Martuljek till Beli potok - Leapers and back.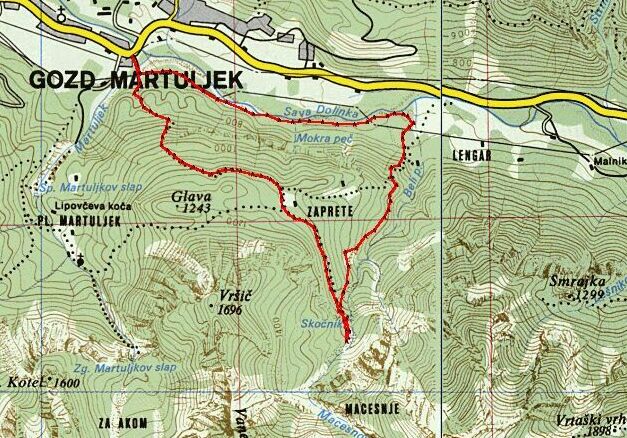 The point of this trip is not to climb up to well known peak but mere to make a longer walk and by the way to see the canyon of Beli potok (White creek)Beli potok (White creek) with the numerous smaller waterfalls named in Slovenian language "Skočniki" -"leapers". The area of Beli potok is marked as natural remarkableness but we cannot see all the beauties of it because of the lack of path.
Our trip begin at the village Gozd Martuljek (old Špik). From here we shall take the way beside former railway station Martuljek to the river Martuljšcica which we shall pass over wooden footbridge.After passing the river we are going to the left and quickly we can catch the sight of path going up to to the woods on our right side. Keeping the direction /left/ we reach the cart road and from now on the way leads up till the pasture above 1000 m sea level. At this point we take the right path towards Beli potok. There is also the direction indicator on the tree. The cart road is slowly changing to the pleasant path and below us we can see the first outlines of the canyon. From time to time we have wonderful views of Kepa, Dovška Baba ...
The path still guides us up but finally we reach the top point of our trip. Deeply below we can see the river Sava dolinka and above it the nice rocky slopes of Visoki vrh, Kepa and other peaks.


Here we take the rest and later we shall make the descent to the valley. The part of our path is at the beginning the same but we take the right path immediately after crossing the little creek which is falling down in the deep over smooth rocks. From now we shall be a little attentive in order to see some interesting waterfalls.
Coming to the plateau we shall take the path on our left side which takes us down to the valley, strictly to the riverbed of Beli potok. We turn on the left and we continue our way back to our initial point.

The trip is suitable for the hikers with middle condition and it lasts about 4 hours incl. rests. The relative altitude is abt. 350 m and the length is abt. 7,9 km. The arriving to the initial place should be with car.