Description of Trips
2. From Srednji vrh to Visoki vrh and back.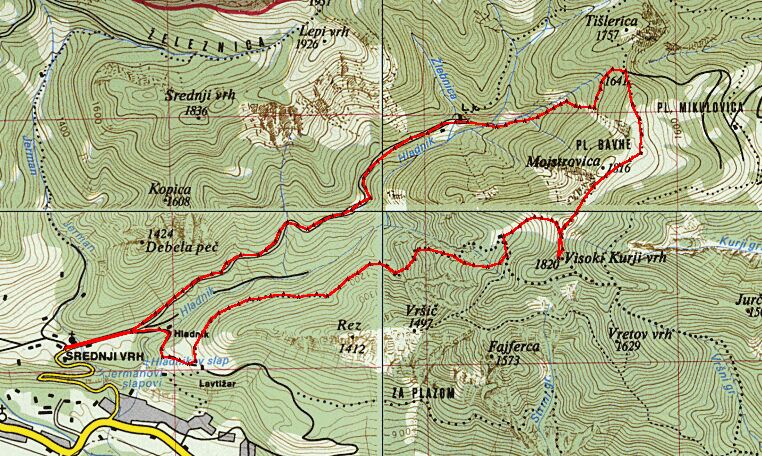 We shall begin our trip at Srednji Vrh above the village Gozd Martuljek. From here the way leads us to the farm vulgo Vavčer. The farm is known for breeding the sheep, goats and horses.
Here our way turns to the left and in the next moment we are in the forest. The way is slightly going up and on our left side we can hear the murmuring of alpine brook Hladnik. After abt. one hour of walking the way becomes narrow path and it takes us higher and higher. For this reason we are taking some rests enjoying in beautiful views of Špikovo skupino, Jalovec, village Srednji vrh, Kranjska gora. A little tired we arrive to the pasture named Bašca where we obligatory take the rest before the last climb ( abt. 250 m of rel. height) to the peak Visoki Vrh.
The steep slope to Visoki vrh is overgrown of grass, pine trees and larches. There is no real path but we cannot miss.
Visoki vrh - Fantastic view. In front of us Triglav the highest peak in Slovenia, on the right Špikova skupina, behind us Austrian Alps, on the left magnificent Kepa and there is no end...
It is time to continue our way therefore we direct us to the pasture Bavhe. All the time we can see the beautiful Kepa and in the summer time we can watch cows, horses, sheeps and goats on the pasturing. After passing the pasture Bavhe we are descending almost no way to the hunter log behind the peak Lepi vrh. Here we take a rest and for the last time we embrace the mountain crest of Bavhe. We are going back to the village Srednji vrh and again on our left side the creek Hladnik is greeting us with his eternal song.

The trip is suitable for hikers with the good condition and it last about 7 to 8 hours incl. rests. The relative altitude is abt. 900 m. The arriving to the initial place should be with car. Parking is not problematic.